Vertical Balers » Multi Chamber
Baler MC4
The MC4 multi chamber baler has been designed to serve customers with smaller quantities of different waste types.
---
Highlights and product features
One baler for all your different materials
Compact different types of recyclable materials at the same time in one baler.
Multiple top-loaded chambers enable easy sorting
With two or more chambers, it is easy to sort different materials at once. The practical press head is easy to move from chamber to chamber.
MC4 - Small multi chamber baler:
Ideal for smaller amounts of different waste
Enables waste sorting directly at the source
Easily movable press head
Simple and convenient top loading
A practical hand cart is included
Compacted bales measure just 70 x 50 x 70 cm
Powder Coating provides durable finish in many colors
How does the baler work?
Time-saving and easy waste handling
Fill your plastic or cardboard waste into the baler.
A full-light indicator tells you when the chamber is full.
Tie off and eject the finished bale.
Remove the bale and store until collection.
---
As quiet as an air conditioner
Connect, monitor and analyze your equipment
Make the most of your equipment with our IOT solution. We call it BRA-IN, Bramidan Intelligence. Faster and better decisions, reducing your costs of operation while minimizing your impact on the environment. Access through the BRA-IN Webportal or App.*
checkData collection – of fill levels, bales ready for collection, equipment errors etc.
checkVisualization – follow performance and location of machines.
checkInteraction – with your machines, via relevant notifications to you or service partners.
*Requires active subscription, availability may vary from country to country
| | |
| --- | --- |
| Bale weight cardboard (kg) | 40-60 |
| Bale weight plastic foil (kg) | 50-70 |
| Press force (t) | 4 |
| Power supply | 1x230V 50Hz 10A |
| Motor (kW) | 1.1 |
| Noise Level (dB) | 65-68 |
| Cycle time avg. (sec) | 33 |
| Dimensions WxDxH (mm) | 1720 x 960 x 2150 |
| Weight (kg) | 585 |
| Filling height (mm) | 1250 |
| Chamber height (mm) | 1090 |
| Stroke (mm) | 750 |
| Number of ties | 4 |
| Type of tying | Twine |
| Full bale light | Yes |
| Bale eject | Manual |
| Waste volume | Small |
Questions? Get in touch today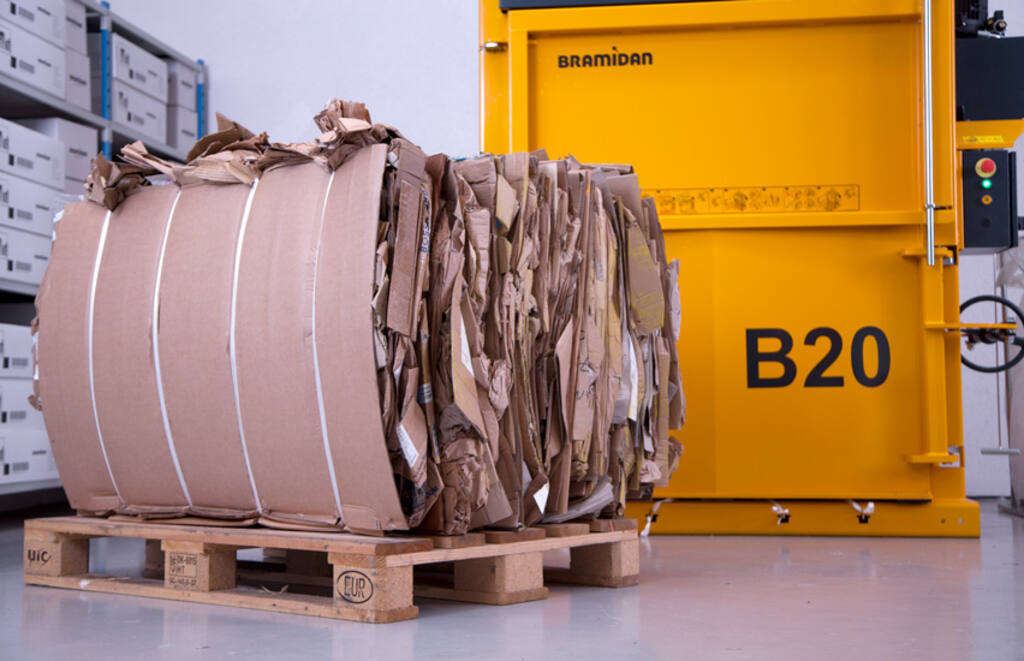 Fill in the form and we will contact you.