Vertical Balers » B-series
Baler B30
The B30 is a flexible and hardworking machine for many types of recyclables. The wide filling opening makes it easy to fill in larger boxes and other bulky waste.
---
Highlights and product features
Extra wide and easy to fill
B30 is a wide baler. It is very easy to fill with larger boxes and other bulky waste.
Simple operation
A small light on the front flashes when a bale is ready. This reduces the risk of overfilling the chamber. The bale is ejected automatically by pressing two buttons simultaneously.
B30 - Handling bulky waste:
Wide opening and large chamber
Retainers prevent compacted material from expanding
Strap roles in the front means no going behind the machine
Bale straps are easily cut with the mounted knife
Full chamber indicator
Powder Coating provides durable finish in many colors
How does the baler work?
Time-saving and easy waste handling
Fill your plastic or cardboard waste into the baler.
A full-light indicator tells you when the chamber is full.
Tie off and eject the finished bale.
Remove the bale and store until collection.
---
As quiet as an air conditioner
Connect, monitor and analyze your equipment
Make the most of your equipment with our IOT solution. We call it BRA-IN, Bramidan Intelligence. Faster and better decisions, reducing your costs of operation while minimizing your impact on the environment. Access through the BRA-IN Webportal or App.*
checkData collection – of fill levels, bales ready for collection, equipment errors etc.
checkVisualization – follow performance and location of machines.
checkInteraction – with your machines, via relevant notifications to you or service partners.
*Requires active subscription, availability may vary from country to country
| | |
| --- | --- |
| Bale weight cardboard (kg) | 280-350 |
| Bale weight plastic foil (kg) | 350-450 |
| Press force (t) | 30 |
| Power supply | 3x400V 50Hz 16A |
| Motor (kW) | 4.0 |
| Noise Level (dB) | 62-64 |
| Cycle time avg. (sec) | 34 / 51 |
| Dimensions WxDxH (mm) | 1775 x 1025 x 2920 |
| Weight (kg) | 1560 |
| Feed opening WxH (mm) | 1200 x 560 |
| Filling height (mm) | 1055 |
| Chamber height (mm) | 1560 |
| Stroke (mm) | 750 |
| Number of ties | 4 |
| Type of tying | Twine / Steel wire |
| Full bale light | Yes |
| Bale eject | Automatic |
| Waste volume | Medium |
Questions? Get in touch today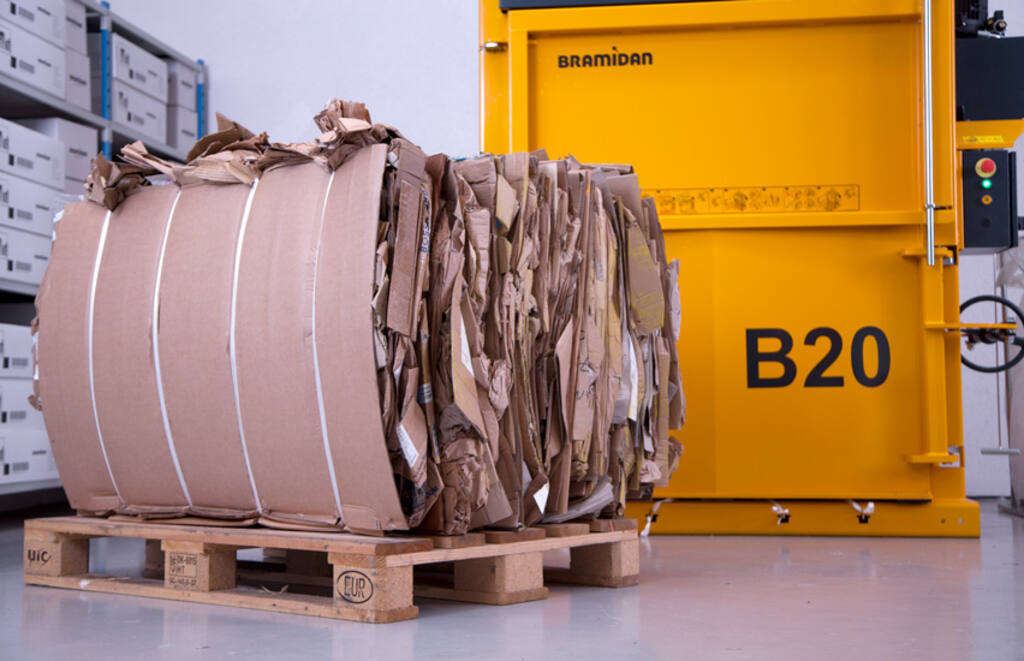 Fill in the form and we will contact you.